I want to let my readers know… I think this is great opportunity for certain people!  But, I tried it for 8 months and it is not for me!  There are just too many rules and requirements.  I do not mind rules. Heck, I was in the US Air Force for 20 years.  However, when abiding by rules gets in the way of production, it bothers me.  Market America is a direct selling company.  You have to establish a monthly auto ship of product.  They have some great products, but they just piled up in my office.  I'll use them, but I'm not about to host home parties or try to sell them to my friends and neighbors.
More importantly, I'm an Internet marketer. That's just the way I roll.  🙂
Market America is a highly structured Internet home business which relies on people helping people to succeed!
I witnessed something I consider very special this past weekend.  In fact, I witnessed something in direct/one-on-one marketing earlier that I've never seen before.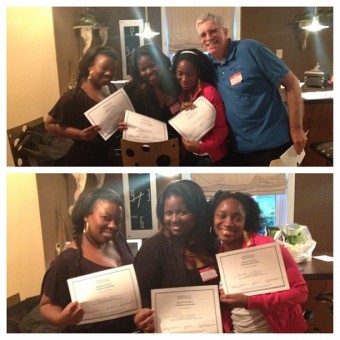 By way of background, it was a long day. I attended a 6-7 hour seminar in a leader's home.  It was Market America's Executive Coordinator Certification Course.  It was an engaging seminar, but that's a long time to sit, listen and learn.  Thirty minutes following this seminar I was invited to sit in on a business invitation call.  This leader was doing a call to a prospect for the member who invited me to this seminar.
I thought this leader was a bit pushy at first, but I quickly re-evaluated my opinion.  This leader wanted to do a product presentation in the prospect's home.  My thought was that the better approach would simply be for this leader to identify and verbally support the prospect's intention to either learn more about the business or  allow the prospect to join the business.
But, I listened… and I witnessed a remarkable conversation.  This leader explained how she had been in the business for a long time.  She told the prospect that she had a lot of experience in this product presentation, and told the prospect that she could expect to make about $600 that night.  …that essentially, the profit from that evening would go to the prospect.
This profit could then easily fund the prospect's much smaller investment into the company.  It was a win-win for the prospect!  I was simply amazed!!  The only thing the prospect needed to do was invite people to the product presentation.  And, this leader explained to the prospect that she would help her with these invitations.  Truth be told, myself and the rest of team are helping as well.  She told her she would send her the exact words to use to make the invitations.
Let me make an additional observation here.  This leader does not supervise or profit from any potential residual income that the person who invited me might benefit from if this prospect joins the company.  Let me repeat that!!  She has no financial motivation to help either the person who invited me to this seminar or the prospect.
I also have a bit of  direct evidence that makes me feel this leader will do exactly what she told this prospect she would do. There were approximately 20 people at this seminar.  Just as an aside… the leader expected four people.  But, people just kept showing up!  I attribute this to three things: 1.) the leader's reputation; 2.) people she already knew wanted to engage with this leader; and 3.) these were serious business minded people who just wanted to learn more.
But, let me get back to the point here…. you know, my direct evidence.  I can recall one example this leader used regarding product presentations.  She picked out a young lady who was brand new to the company.  She asked this young lady how much money she made from her first product presentation.  The young lady responded that she made $750.  The really amazing thing about this is that this young lady knew very little about the business.  She had tons of questions during this training.  And, I'm thoroughly convinced that this was not a "plant."  In other words, this was not rehearsed or predetermined  that this young lady would provide this answer on her success with the product presentation.  She was brand new to the company.
In conclusion, this is what I witnessed. This is a business all about helping other's grow their business. The leaders in this company don't necessarily have a financial incentive to help others.  In some cases, sure… they do; and that's just good business. However, in the case I witnessed today this was all about helping others.  This attitude supports two components of business that I firmly believe in: Give, Get, Grow (by passing on to, or helping others); and Zig Ziglar's famous quote:  "You can have everything in life you want, if you will just help other people get what they want."
The deeper I ventured into this business, the more I learned that it just wasn't for me.  It's a direct selling business, which means you have to take product into your home and sell it locally.   I just wasn't comfortable with the "auto-ship" feature and expense.  I have a lot of product on the shelves of my home office. It's a great business for anyone that enjoys this type of business.  But, it's not for me.  I'm an Internet marketer.  And this business doesn't lend itself to Internet marketing.