I am just finding this experience really, really special and I wanted to share it with my readers.  I have never seen a support structure as professional as Talk Fusion's.  I believe this is essential to anyone who wants to build an Internet home business. You know, anyone who happens to just land on this post at the right time in their lives is in for a very special opportunity.  Should you choose to pursue the Talk Fusion business, you sure won't have to make some of the expensive mistakes I've made in establishing my Internet home business.  This may be the very last business I ever invest in!  Let me explain why.
The support structure is simply phenomenal!  I joined Talk Fusion two weeks ago.  The very first thing my sponsor did was introduce me to his upline and someone in his downline that he was assigning me to.  They have a "shadowing" system that I never experienced before.  I've been in other MLM's before, but I never participated in system like this.
The fundamental of this "shadowing system" involves 3-way phone calls.  My sponsor got me in touch with one his  upline team.  His name is Bryan.  Bryan has been in Talk Fusion for four years.  Bryan just told me his story about how he became involved.  My sponsor… oh, his name is Kary, also set up a 3-way conversation with a downline member who I would be assigned to.  Her name is Faith!
There are times when a 3-way may not be practical using the US phone or cell system.  In those cases, we move over to Skype to save on expenses.  Talk Fusion is in over 110 countries, so there will be lots of occasions when we need to take the conversation over to Skype.  I just love to hear the success stories of  Talk Fusion leaders in Hungary or Russia or anywhere else in the world.  That make my experience even more fun!  And, it's a whole lot easier to work when you are having fun.
But, let me give you some idea of how this translates into success.  Remember, I've only been in this business for two weeks.  Here I am trying to learn the back office and products and putting together some video emails… all the while knowing that the great folks in my upline are attending Talk Fusion's Vision Conference in Tampa, Florida.  So, while I'm sitting up here in Maryland overcoming earthquakes and battling the damage left by the hurricane Irene, I am also waiting for my upline team to return.  Little did I know that the business was already producing results for me.
Check this out!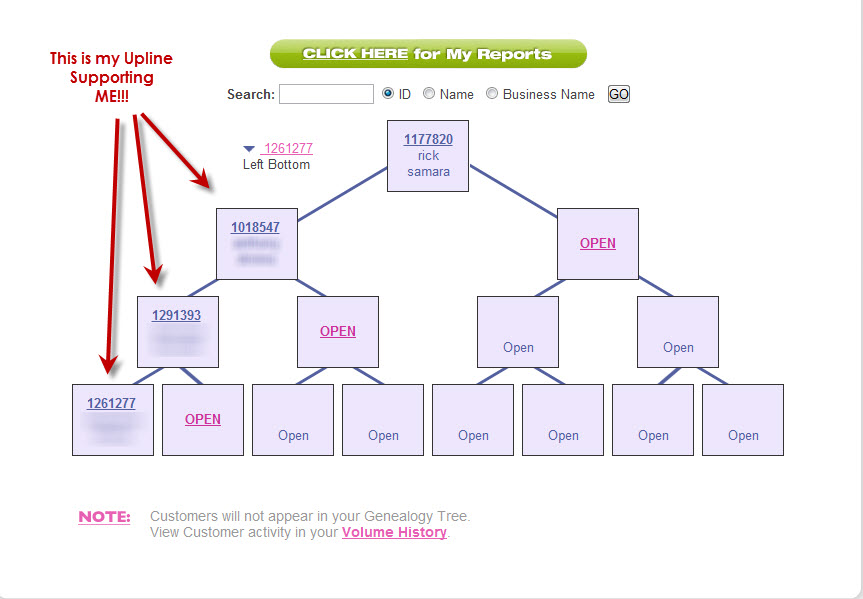 I'm almost embarrassed to admit this!  While I'm sitting at home contemplating who and when I'm going to contact about this opportunity, my upline is already placing great people in my 2X2 matrix.
You might actually say that I just started concentrating on building this business on Friday!  Stay tuned for much more…  And, please don't just join under me.  Yes, I have posted a couple of banners with my links.  Hey, I like the pictures.  Post in the comments section or send an e-mail to rick@ricksamara.com if you are interested in learning more.  This is a real business with real people.  If you are serious about a true internet home business, let's do this on the personal level and have some fun!